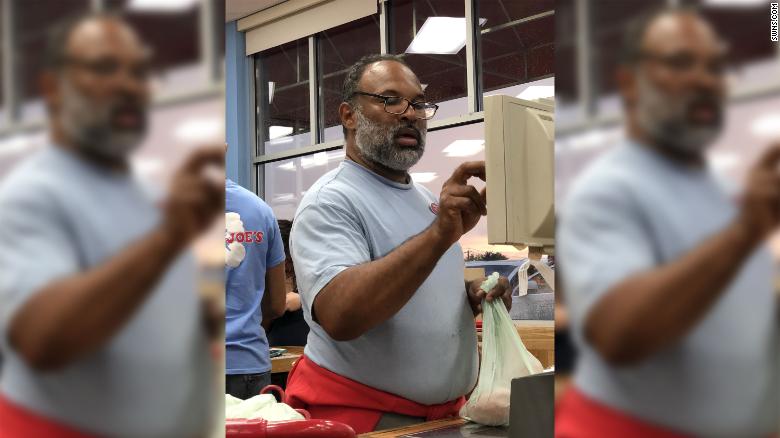 The image became the basis for the Daily Mail's story under the job-shaming headline, "From learning lines to serving the long line!"
The details in the story were just as insulting: "Wearing an ID badge bearing his name, the former star wore a Trader Joe's T-shirt with stain marks on the front as he weighed a bag of potatoes."
The story exploded on social media over the holiday weekend after Fox News picked it up and tweeted out its own version.
But the articles seemed to produce a flood of support for Owens, as well as a conversation about job-shaming and classism.
Other actors, as well as fans, defended him.
"Family Ties" actress Justine Bateman (also of '80s TV fame), chastised the person who took Owens' picture while he was "earning an honest living."
Actor Chris Rankin, who appeared in the "Harry Potter" movies, said he worked in kitchens after the popular film franchise came to an end.
"I needed a job, no shame in that. And you know what? I really enjoyed it! You do what you need to do and that's nothing to be ashamed of," he said in a tweet.
And he hasn't exactly been sitting around doing nothing since that popular series ended in 1992. A quick look at his
 

profile on IMDB.com
reveals a slew of TV roles over the past 25 years: guest shots on shows like "Law & Order," "Blue Bloods," "Lucifer, "The Blacklist" and even a couple of guest appearances on the cable sitcom "It's Always Sunny in Philadelphia."
His latest TV role came this year in an episode of "Elementary," and he has a few other screen projects yet to be released.
Owens has done a lot of stage work through the years too, according to
his website
, and he's the founder and artistic director of The Brooklyn Shakespeare Company.
The Yale graduate, son of former U.S. congressman Major Owens, also has been directing and teaching.
But as any actor will tell you, sometimes the gaps between jobs can force you to get secondary gigs.
The Screen Actors Guild‐American Federation of Television and Radio Artists, a union that represents actors, made the same point in its tweet standing up for Owens.
"This #LaborDay, we honor #geoffreyowens & ALL of the hard-working actors & artists who work 1, 2, 3 day jobs in order to pay the bills, take care of their families & still work to entertain us," the union wrote
in a tweet

 
replying to the Fox News story.